CHS UPCOMING EVENTS and MEET THE CHS PRESIDENT
THE CHS PRESIDENT
Dave Biehl came to the Caledonia Historical Society (CHS) five years ago from the Lancaster, TX Historical Society where he served on the board.  His parents developed his interest in history from an early age by visiting old houses and sites during extensive travel.  He retired from Baylor Hospital, and marriage brought him back to Wisconsin.  Dave has been a guiding light for the CHS.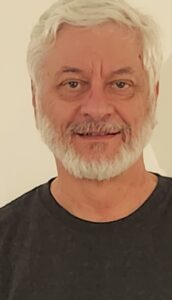 UPCOMING EVENTS
April 20th Meeting
There will be guest speakers at the April 20th monthly meeting.  The meeting will be held at the Franksville Park, 9614 Hwy K, Franksville starting at 6:30 pm.  Henry Hecker and Peter Maas of the Mukwonago Historical Socierty will be talking about 19th century Wisconsin Potters, specifically the Novak potter of Caledonia.  They have done a great deal of research as is evidenced on the website they created, www.madefromclay.org.  John Novak/Nowak was a Caledonia potter.
Starting in May the monthly membership meetings held on the third Thursday of the month at 6:30 pm will be in the 1877 Town Hall at the Caledonia Historical Village.
May 21st Spring Fling
The Spring Fling is back with activities for all ages .  The event takes place at the Caledonia Historical Village on 5 Mile Rd just east of Hwy 38 from 10 am to 4 pm.  .  There will be a bouncy house, face painting, and rope making.  All of the historic buildings will be open with docents.  The Dulcimer group will provide live music from 1 pm to 3 pm.  There will be a bake sale in the 1900 Botting Machine Shed. Hot dogs, popcorn, and soda will be available for purchase.  Admission and parking are free but donations are requested to help maintain the historic structures.
MEMBERSHIP FORMS AND DONATIONS
The link for the membership form and donation information can be found on the ABOUT page.  You need to scroll down the page.  You can donate either by mailing a check or online.  The CHS is a 501(c)3.
VISIT THE BEAUTIFUL GROUNDS OF THE CALEDONIA HISTORICAL VILLAGE
The grounds are open from dawn to dusk.  If you use the CHV grounds for special event photography, please make a donation.   The CHV is owned and operated by the volunteers of the Caledonia Historical Society with funding coming from membership dues, donations, grants and fund raising activities.  There is no funding from a governmental source.