Once again a big thank you to everyone who supported us by purchasing baked goods or donating while CHS sold baked goods at the Educators Credit Union on Hwy 20 on December 11th and the 19th.  We raised over $850.  Here is Nancy Nelson showing a sample of what the wonderful members had baked.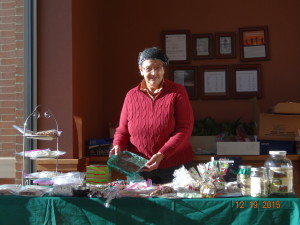 CHS held our December pot luck on the 17th.  The food was tasty, the many attendees were jolly and the program was history related.  Our guest speaker and some of the  CHS members were dressed in early 1800's appropriate attire.
The Caledonia Historical Society meets the third Thursday of every month.  Starting with the meeting on November 19th, we will meet at the Caledonia/Mt. Pleasant Memorial Park at 9416 Northwestern Ave.   Our next meeting is January 21st at 6:30 pm.  Everyone is welcome.
We have several items for sale to help pay the expenses of maintaining our historic village.   The items include mugs, note cards, the book, "Milwaukee Then and Now," bricks for the walk way by the Town Hall, and posters of the 1902 Depot.   If you are interested, send us a note via the Contact Us page on this website.
Why are we working so hard to raise funds?  It is a red two story barn/machine shed that was moved to our historic village at Linwood Park.  Please see the Racine County Eye article dated December 10th for an update and explanation.