FALL AT THE CALEDONIA HISTORICAL VILLAGE
LAST OPEN HOUSE OF 2023
The Caledonia Historical Society will be hosting an open house at the Caledonia Historical Village on Sunday, October 15th from 12 pm until 4 pm.  All the buildings will be open with docents.  The Village is located at 7330 5 Mile Rd, just east of Hwy 38.  Admission is free but donations are appreciated towards the maintenance of the historic buildings.
GUEST SPEAKER AT THE OCTOBER 19TH MONTHLY MEETING
The Caledonia Historical Society October meeting will be held Thursday, October 19th at 6:30 pm at the Caledonia/Mt. Pleasant Park, 9614 Hwy K, Franksville. The public is invited to join the CHS in welcoming guest speaker, Jim Mercier, who will speak about old Racine advertising signs and trays used at Racine breweries, dairies, and stores.  He will be sharing advertising pieces from his collection of Racine memorabilia.
Mr. Mercier began collecting old Racine memorabilia 50 years ago due to his interest in Racine history.  Some of his collection can be seen at the "Spirit of Racine Entrepreneur's Exhibit" located in the Racine Business Center, 1405 16th St.
Mr. Mercier has presented many programs and written several articles about Racine history.  He also writes a column about products once made in Racine for the Preservation Racine Newsletter.
This opportunity to hear Mr. Mercier speak is free of charge, but donations are welcome to enable the CHS to maintain the Caledonia Historical Village located east of Hwy 38 on 5 Mile Rd.
CONSTRUCTION AT THE VILLAGE CONTINUES
The shed that will be used to house the CHS mowers is almost done.  Just needs some trim and some paint.  This will allow for better use of the space in the Botting Shed.  The construction has been accomplished by the CHS volunteers.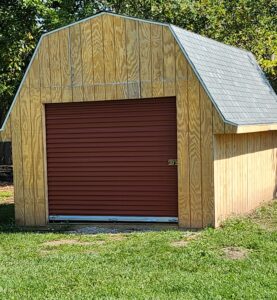 The new doors for the 1902 Milwaukee Road Depot are progressing.  The next piece of the puzzle is making them fit into the old doorways and installing the glass.  A CHS volunteer is responsible for creating the beautiful new doors.
MEMBERSHIP FORMS AND DONATIONS
The link for the membership form and donation information can be found on the ABOUT page.  You need to scroll down the page.  You can donate by either mailing a check or online.  The CHS is a 501(c)3.
VISIT THE BEAUTIFUL GROUNDS OF THE CALEDONIA HISTORICAL VILLAGE
The grounds are open from dawn to dusk.  If you use the grounds for special event photography, please make a donation.  The CHV is owned and operated by the volunteers of the Caledonia Historical Society with funding from membership dues, donations, grants and fund raising activities. There is no funding from a governmental source.