SPECIAL EVENTS AND MEMBER SPOTLIGHT
CHS GUEST SPEAKER AT THE NOVEBMER 16TH MEETING
The Caledonia Historical Society (CHS) October meeting will be held Thursday, November 16th at 6:30 pm at the Caledonia/Mt. Pleasant Park, 9614 Hwy K, Franksville. The public is invited to join the CHS in welcoming guest speaker, Chuck Miles, who will speak on "The January Harvest."  He will explain what and how the January harvest was accomplished in the 1800's.
Mr. Miles is a past President of the CHS and has volunteered in many capacities since moving to Caledonia forty-five years ago.  He enjoyed working with local youth in the Boy Scouts and the Youth Conservation Corps.  He has provided motorcycle safety training and was the lead motorcycle trainer throughout Wisconsin.  He also conducted driver safety courses for AARP.  He is a veteran and was an electronic technician while in service.
This opportunity to hear Mr. Miles speak is free of charge, but donations are welcome to enable the CHS to maintain the Caledonia Historical Village located east of Hwy 38 on 5 Mile Rd.
CHS CHRISTMAS BAKE SALE AND ARTIST SHERRY LOU CHRISTMAS BOUTIQUE
 The Caledonia Historical Society is holding a Christmas Bake Sale on December 1st from 4 pm to 7 pm, December 2nd from Noon to 4 pm, and December 3rd from Noon to 3 pm at the Caledonia Historical Village located at 7330 5 Mile Rd, Racine, just east of Hwy 38.
The Christmas Bake sale will be held in the 1877 Town Hall.  Cookies available will be molasses cookies, chocolate cashew cookies, decorated sugar wafers, cherry chocolate chip, sugar cookies, coconut bars, cutout cookies, and peanut butter blossoms as well as divinity, cinnamon rolls, scones, and breads.   There will also be hand craft items such as wreaths and door hangings.
Artist Sherry Lou will be holding a Christmas Gift Boutique in the 1840 Cabin starting December 1st from 4 pm to 7 pm, December 2nd from Noon to 7 pm, and December 3rd from Noon to 4 pm.  There will be quilts, jewelry, handmade greeting cards, wood crafts both indoor and outdoor, and much more.
All proceeds from the bake sale benefit the Caledonia Historical Society, and a percentage of the boutique sales will benefit the Caledonia Historical Society.
MEET TIM CRAWFORD
Tim is a life long resident of the Caledonia/Racine area other than when he was away for school.  He graduated from law school in 1972 and practiced in Racine until his retirement in 2017.
Tim grew up on the Crawford farm on 4 Mile Road.  His father and his brother both worked for the highway department.  His brother was influential in having the 39 acres near Hwy 32 and 4 Mile Rd donated to Caledonia.  The park that was built on the donated land was named Crawford Park upon his brother's retirement.
Tim is an active member of the Caledonia Historical Society as a docent in the 1877 Town Hall during the CHS open houses.  Tim enjoys talking to the visitors and educating them on Caledonia History.  Tim is in the 1877 Town Hall in this picture.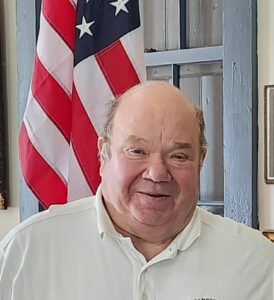 MEMBERSHIP FORMS AND DONATIONS
The link for the membership form and donation information can be found on the ABOUT page.  You need to scroll down the page.  You can donate by either mailing a check or online.  The CHS is a 501(c)3.
VISIT THE BEAUTIFUL GROUNDS OF THE CALEDONIA HISTORICAL VILLAGE
The grounds are open from dawn to dusk.  If you use the grounds for special event photography, please make a donation.  The CHV is owned and operated by the volunteers of the Caledonia Historical Society with funding from membership dues, donations, grants and fund raising activities. There is no funding from a governmental source.