SUMMER AT THE CALEDONIA HISTORICAL VILLAGE
OPEN HOUSES
The Caledonia Historical Society will be holding open houses at the Caledonia Historical Village on June 18th, July 16th, August 20th and October 15th.  The open house hours are 12:00 pm until 4:00 pm.  All buildings are open with docents.  Visit the museum to see the changes in the exhibits.
FALL FEST CAR SHOW
The second annual Fall Fest Car show will be September 9th from 10 am to 4 pm.  The Brew Town Cruisers will be presenting their 42nd annual car show.  There will be food for purchase, a bake sale,  all buildings will be open with docents, and much more.  More information will be coming soon.
MEET A CHS MEMBER
Robert Franitza joined the Caledonia Historical Society in 2022.  He retired in 2021 after working 45 years in the printing industry.  He and his wife have been married for 42 years, and they have lived in Caledonia for 22 years.  They have three grown children.  Bob was encouraged by long-time member, Clarence, to visit the grounds of the Caledonia Historical Village (CHV) and to learn about the Caledonia Historical Society.  Bob joined and is a regular participant of the Monday and Thursday work crew who maintain the historic buildings and the grounds.  Bob enjoys learning the history of the area and sharing what he has learned with the visitors to the CHV.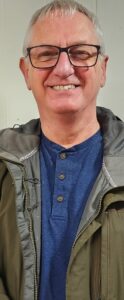 MEMBERSHIP FORMS AND DONATIONS
The link for the membership form and donation information can be found on the ABOUT page.  You need to scroll down the page.  You can donate either by mailing a check or online.  The CHS is a 501(c)3.
VISIT THE BEAUTIFUL GROUNDS OF THE CALEDONIA HISTORICAL VILLAGE
The grounds are open from dawn to dusk.  If you use the CHV grounds for special event photography, please make a donation.   The CHV is owned and operated by the volunteers of the Caledonia Historical Society with funding coming from membership dues, donations, grants and fund raising activities.  There is no funding from a governmental source.