SUMMER AT THE CALEDONIA HISTORICAL VILLAGE
BREWTOWN CRUISERS 42ND ANNUAL CAR SHOW AT THE CHV
The Brewtown Cruisers will be holding their 42nd annual car show on September 9th from 10 am to 4 pm at the Caledonia Historical Village.  All makes, models and years are welcome.  The car registration fee is $15 with dash plaques given to the first 100 cars.  Cars 30 years and older will be judged.
Music will be by Slick Rick.  There will be a 50/50 raffle.  Visit the Botting Shed to find crafts, bake sale, food and drinks for purchase.
All of the historic buildings will be open with docents available to answer questions.  Admission is free.  A donation will be suggested for parking.  All funds raised by the CHS will be used to maintain the grounds and the buildings.
PLANTING BEDS CONSTRUCTED
Thanks to a grant from the Potpourri Garden Club, two raised garden beds were built at the Caledonia Historical Village for the purpose of providing a senior or disabled individual the opportunity to grow fresh vegetables.  The beds are 4′ wide x 8′ long x 30″ high.  If you are interested in planting the beds in 2024  contact [email protected] for more information.  The beds were planted by CHS volunteers (who are seniors) in 2023.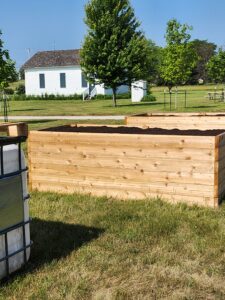 MORE CONSTRUCTION
The "mushy" flooring in the Town Hall has been replaced and all of the flooring has been painted.  The displays have also been updated.
The work crew volunteers are busy building a shed for storage of the lawn mowers.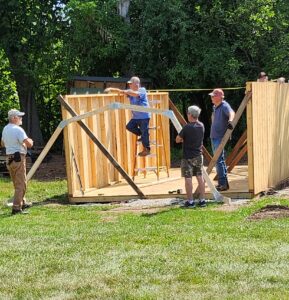 TWENTIETH YEAR PICNIC
The Caledonia Historical Society(CHS) became official as a 501(c)3 in 2003.  The CHS has been striving for twenty years to preserve and disseminate local history.  The Caledonia Historical Village(CHV) started with the move of the 1877 Town Hall to the CHV.  The CHV now includes the 1902 Sturtevant Milwaukee  Road Depot, a 1927 Caboose, a 1840 Log Cabin, a 1900 Machine Shed, a Museum built on the grounds, and various small buildings and numerous artifacts.
In celebration a picnic was held at the CHV on Sunday, July 30th at 12:30 pm in the Botting Shed. There was great food and great fellowship.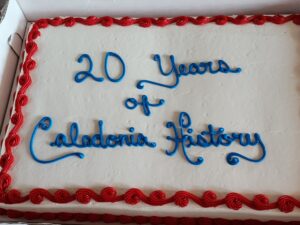 OPEN HOUSES
The Caledonia Historical Society will be holding open houses at the Caledonia Historical Village on  August 20th and October 15th.  The open houses are from 12:00 pm until 4:00 pm.  All buildings are open with docents.
MEMBERSHIP FORMS AND DONATIONS
The link for the membership form and donation information can be found on the ABOUT page.  You need to scroll down the page.  You can donate by either mailing a check or online.  The CHS is a 501(c)3.
VISIT THE BEAUTIFUL GROUNDS OF THE CALEDONIA HISTORICAL VILLAGE
The grounds are open from dawn to dusk.  If you use the grounds for special event photography, please make a donation.  The CHV is owned and operated by the volunteers of the Caledonia Historical Society with funding from membership dues, donations, grants and fund raising activities. There is no funding from a governmental source.